Sparkling Scents for Your Jewelry Store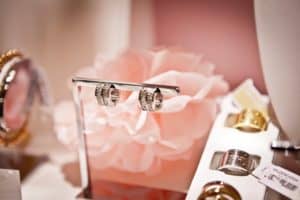 Do you want to increase sales in your jewelry store? Try using environmental scenting.
Environmental, also known as ambient scenting, is a marketing strategy where you diffuse a pleasant fragrance in your store. Research has shown that scenting retail stores increases linger time, increases dollar sales, improves customer perception and satisfaction and leads to more repeat business.
In many respects, a jewelry store is the ideal place to use environmental scent.
Increasing Add-on Sales
Jewelry sales are a high-touch business, where building a rapport with friendly and helpful sales staff is key to success. When you make your store more pleasant to be in, customers will naturally stay longer, giving your staff more opportunity to get to know what they are looking for and show them products. They may be willing to buy a more expensive item than they would have otherwise because the scent and extra interaction with the salesperson has made them feel comfortable.
Or they may be more open than they would be to looking at add-on sales such as a necklace that matches earrings, wedding bands to go with engagement rings and additional charms for charm bracelets. Either way, your sale amount per sale goes up.
Dialing Up the Luxury
When your store smells divine, customers will view you as more upscale and may be willing to pay more for unique items. In research studies, customers evaluate scented stores and their products more positively than when they are unscented, saying that they are more suitable for their needs and of higher quality.
Customers' positive experience in your jewelry store will increase their intention to shop with you again as well as recommendations and good reviews on your website, Yelp and other review sites.
Easy and Affordable
Jewelry stores are typically fairly small with one main area, making it easy and affordable to fill the room with scent. Most of our diffusers have timers to scent your store as efficiently as possible so your fragrance lasts a long time.
Air Esscentials has a number of diffusers that can meet your needs. Talk to your Air Esscentials rep to see what size diffuser is right for you based on your square footage and layout. Air Esscentials also has a vast library of wonderful fragrances to choose from. We have found that fragrances with vanilla and/or grapefruit are highly effective in increasing jewelry store sales. Other favorites include fragrances with green tea and warm, woody notes to create that luxury feel.
Industry Leaders
Air Esscentials has scented over 1,000 jewelry stores and even created a signature scent for the Independent Jewelers Organization and Luxury at JCK. We know exactly how to put a successful scenting program in your jewelry store because we have done it many times. Erika Godfrey, President of Hawthorne Jewelers and one of our jewelry store customers, is thrilled with the results. See what she has to say here.
There's also a case study of using scent in a jewelry store. Find out how it worked here.
You can see Air Esscentials at JCK 2019, Booth #53071. Be sure to stop in!