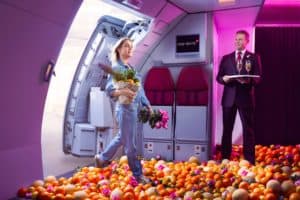 Virgin Atlantic airline has recently launched a signature scent on its airplanes. The new scent, named Air, has citrus, rose, eucalyptus and lavender and will be used on all of the airline's 43 planes. The company will also sell candles with the signature scent.
According to Daniel Kerzner, VP of Customer Experience at Virgin Atlantic, the company took its cue from the hospitality, retail, restaurant and entertainment industries, where scent branding is commonly used.
The airliner wants passengers to "immerse themselves in the unique Virgin Atlantic experience" through the scent and "forget they're on a plan 35,000 feet in the air."
Who Has a Signature Scent?
Scent branding is common in the hospitality industry. Hotel chains such as the Ritz Carlton, Mandarin Oriental, Hyatt and others all use them to create a branded experience.
Guests associate the fragrance with the positive feelings and memories of their stay. When reintroduced to the scent, they more easily recall their experience and are more likely to rebook. Numerous fashion, retail and entertainment businesses also have signature scents.
Getting a Unique Fragrance for Your Brand
Companies just looking for a pleasant scent can choose a scent from the huge Air Esscentials scent library. Others want the fragrance to also support their brand positioning and make the brand more memorable.
In addition to diffusing the fragrance in their locations, businesses with a signature scent can use it in other ways. To extend its reach, they sell candles or room sprays or use the scent on direct mail.
Have you considered creating a signature scent for your business? It's easy!
Your Air Esscentials rep can help you decide which fragrance notes will best express your brand. Then a perfumer gets these ideas and creates several fragrances for your review. Choose the one that you, your team and customers feel expresses the brand. Then, decide how you want to use it.