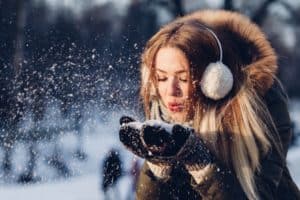 It may be cold outside, but all the more reason for it to smell amazing inside! Give your customers a respite from winter weather with seasonal scents that will make them feel cozy, nostalgic and in the mood to spend money with you. Be sure to use winter appropriate fragrances at this time of year, or your atmosphere will feel "off."
Even if you have a signature scent, consider switching it up for the holiday season. It will make your customers and employees notice and create feelings of goodwill.
Winter Fragrances
Gingerbread  – For a delicious and nostalgic scent, diffuse this fragrance with molasses, ginger, nutmeg and cinnamon.

Holiday Spice  – Floral notes, fruit and spicy cinnamon create a blend that is reminiscent of spiced apple cider.

Noel – This fragrance is like Christmas in the air, with fresh evergreens, bayberry, ripe cranberry, zesty orange, and persimmon warmed by cinnamon and star anise.

Peppermint  – The refreshing fragrance of candy canes and cold bring winter indoors (and keeps customers and employees alert too).

Pumpkin Spice  – This delightful aroma has pumpkin, nutmeg and piecrust and will make you think of wonderful holiday meals.

Santal  – For a different spin on winter, try this warm and sensual fragrance with cardamom, sandalwood, jasmine, woods and cashmere musks.

Vanilla Cedarwood Sage – For a sophisticated take on winter, use this medley of cedar wood and vanilla with the herbaceous tang of sage.

Vanilla Cinnamon – The perfect blend of sweet vanilla and spicy cinnamon will bring ultimate comfort and security to visitors and staff.

Winter Pine  – Imagine walking through a frosty Christmas tree farm with the rich evergreen aroma cut with resinous fir notes.

With winter weather causing customers to rush indoors, your business can be a warm, welcoming destination with the right fragrance. Contact Air Esscentials if you need help choosing the right popular winter scents for your business.