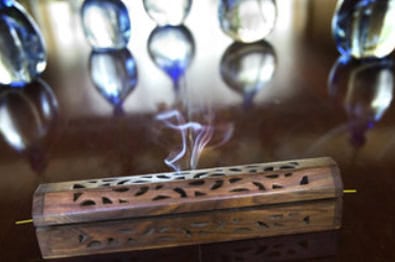 Patrick Farrell / Miami Herald Staff Incense burns in a box in the lobby of the Mandarin Oriental Miami, adding a fresh scent that wafts through the luxury hotel on June 2, 2011. Cecilia Galbraith stepped off the elevator at Mandarin Oriental, Miami and immediately picked up the scent of a hotel marketing trend.
"Obviously incense," said the Orlando resident vacationing in Miami, noticing a zen theme between the aroma and low light in the hallway. "We were sort of joking about being serene, how that's sort of the message here. Serenity and calm."
The Mandarin Oriental's twice-daily incense lighting has been part of the hotel's operations since it opened about 10 years ago. The practice —sometimes with candles, more often with scent diffusing machines —has exploded as major chains around the world adopted signature scents and new hotels added aroma to their initial marketing efforts.
Miami Beach will be the center of scent marketing industry later this year when the ScentWorld Expo, first held in 2008, is scheduled to meet at the Gansevoort.
Hoteliers craft signature scents to help set a mood as they welcome guests, but also to make a deep and subliminal connection that they hope will brand their hotel in a guest's memory. Unlike the perfume counter ambush, the aromatic experience at most hotels is designed to be low-key, not overpowering.
So a stop at the Ritz-Carlton, South Beach should include a waft of mango and peaches. Sniff around the Gansevoort Miami Beach and get a whiff of green tea, "chosen for its calming, sensual aroma and international appeal," according to the hotel.
Embraced outside the hospitality industry by retailers, casinos, auto dealerships and even some hospitals, (which pump a calming lavender scent into emergency rooms), scent marketing is a multi-million dollar industry that is forecast to continue growing.
"For the most part in today's society, everybody is inundated with visual stimulus and auditory stimulus," said Steven Semoff, co-president of the Scent Marketing Institute, a consulting group based in Scarsdale, NY. "The sense of smell, though, is hardwired directly to your brain, right to the emotional center. When you smell something, bang. That's going to trigger either a memory or an emotion."
When Chris Tompkins and colleagues were preparing to launch B Ocean Fort Lauderdale, which opened in January,they went through an extensive olfactory process to decide how the lobby area should smell.
"We live in an environment where we have an ocean breeze; how do we capture that ocean breeze with a freshness to it that doesn't smell loamy, piney or antiseptic and doesn't smell like a cologne?" said Tompkins, corporate vice president for B Hotels & Resorts.
The end result is a combination of thyme, white tea and organic herbs —and is, Tompkins said, a hit with guests. He said the brand will include signature aromas in each location as it expands.
"It makes tot al sense," he said. "No pun."
While some hotels and casinos have been using fragrance for more than a decade, many hotel chains have embraced scent marketing more recently. Starwood rolled out signature scents for several of its brands, including Aloft (citrus-floral), Westin (white tea) and Element (green tea and birch leaves with green apple, mint and jasmine), in 2006. Four Points by Sheraton followed in 2009 with an aroma that smells, according to a representative, of "fresh fields after a thunderstorm in the summer."
Kimpton's Epic in downtown Miami is consistent, smell-wise, with other hotels in the boutique brand: hints of citrus, black pepper, clove and green tea. Eric Jellson, area director of sales and marketing, said the company "saw that there was a real emotional connection to their guests if the hotels carried a similar scent wherever they were in the country."
While guest floors and elevators at the W South Beach share a scent with other W hotels, the lobby has a gardenia essence unique to Miami Beach.
"It's interesting how positively guests respond to that," said general manager George Cozonis. "A lot of times with scents, the reaction is very subliminal. You don't know it's a great smell that's making you happy."
And in many cases, that smell gets guests to shell out extra cash so they can bring the scent home.
The Nitiraj incense used at the Mandarin Oriental, Miami is available in the spa and gift shop for $22 a box. Soho Beach House, which opened last year, sells products that smell like its signature "Wild Cow" scent (think lemongrass, ginger and rosemary rather than farm musk) from the Cowshed spa line. Like the lemongrass scent at the Delano? The candle is available for $12 at the spa or minibar.
If guests at One Bal Harbour like the pomegranate scent from Santa Maria Novella that they catch in the lobby and corridors, it's a short trip to the recently opened store at Bal Harbour Shops.
"We're sending quite a few people to them," said Juan Arevalo, One Bal Harbour's general manager and owner. He started placing the scent —which he's used personally for years —in the hotel about six months ago.
While Arevalo and other hoteliers use existing scent options, many turn to companies for help crafting a unique aroma.
Coconut Grove-based Air Esscentials, which develops and manages scent marketing programs, does about 40-45 percent of its business in hospitality with hundreds of hotel clients around the country. They include the Gansevoort in Miami Beach, the Hyatt Regency in downtown Miami, and South Beach's Hotel Victor, Delano, Hilton Bentley and Colony Hotel.
Founded five years ago, the family-owned company has grown by 25 to 30 percent a year since then. "You have to breathe," said Marc Levy, vice president of sales. "And if you breathe, you smell."