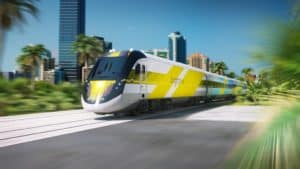 Miami, FL  – For the first time in decades, South Florida residents and visitors have a new transportation option to take them from city to city. The new Brightline rail system connects Miami, Ft. Lauderdale and West Palm Beach and will eventually reach Orlando as well. Brightline terminals are constructed with the modern traveller in mind, with plenty of natural light, Wifi and environmental scent provided by Air Esscentials.
The terminals located in the downtown areas of Miami, Ft. Lauderdale and West Palm Beach are up to 60,000 square feet with floor to ceiling windows and contemporary décor in aqua, yellow and grey. Brightline used this color scheme as inspiration for its signature scent created by the world-class perfumers at Air Esscentials.
The signature scent Air Esscentials created for Brightline was designed to encapsulate the modern, optimistic vibe of South Florida and give passengers a fresh, pleasant experience in the terminals. It is a citrus fragrance with luscious grapefruit and orange and touches of mandarin and lemongrass, balanced by white jasmine and musks.
"Brightline is at the forefront of modern transportation. The goal of our scenting program was reduced passenger stress and helped create a more pleasant customer experience," said Spence Levy, President of Air Esscentials. "Based on the feedback we have gotten so far, we have been successful at accomplishing those goals."