Miami now has a signature scent in a bottle, developed by a master perfumer and introduced during a marketing conference.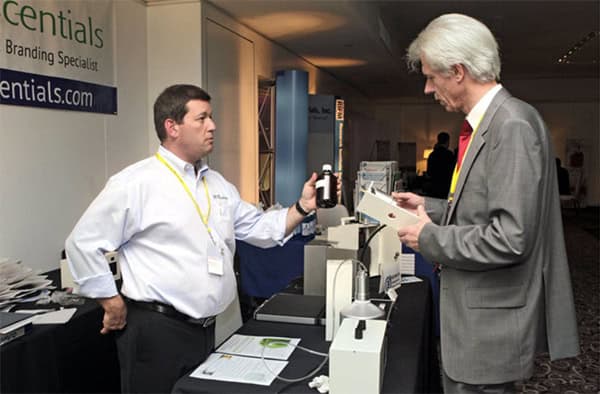 Marc Levy, left, Air Esscentials vice president and sales manager, shows a cold diffusion system for scents to Oswin Lippitsch of Aromea Airdesign, an Austrian scent marketing firm, Thursday, Dec. 8 at the ScentWorld Expo at the Gansevoort Hotel in Miami Beach. The expo brings together master perfumers, scent professionals and experts from the scent marketing industry. The expo's last day is Friday, Dec. 9. MARSHA HALPER / Miami Herald Staff
BY MONIQUE O. MADAN
What does Miami smell like?
You say Cuban coffee and curry? Sand and sea? Lechón and lox?
All that, for sure. But for the professional perfume people visiting Miami Beach for a marketing conference on scents, the smell of South Florida comes in a bottle and was spritzed all over the place Thursday.
Rene Morgenthaler, a Swiss master perfumer based in New Jersey, created "the scent of Miami," a signature fragrance meant to capture what this place is all about.
So what's in the bottle? Only the nose knows.
"I hesitate to go by ingredients, so I go by emotions," said Morgenthaler, who has cooked up Polo Extreme by Ralph Lauren, Sheer Obsession by Calvin Klein and Elizabeth Taylor's Passion for Men.
"The Miami scent is exciting. It has that sensuality. It's the sun, sea, the spirit of Miami."
Actually, the scent of Miami smells faintly of citrus and baby powder. No one who tried it, dabbing it on wrists and behind ears, turned up their noses.
Now that Miami has an official scent, the people who promote the region can unleash it. The Greater Miami Convention & Visitors Bureau did so Wednesday night.
The creator said he spoke to several Miamians before finalizing the smell, giving him assurance of authenticity.
"When visitors smell this, it will take them right back to Miami," Morgenthaler said.
"It's fresh, it's clean. Reminds me of when I lived in South Beach. A different type of feel," said Jennifer Dublino, organizer of the Scent World 2011 Conference at the Gansevoort Miami Beach Hotel.
"I live in Boca now. This scent has that hustle and bustle. If Boca had a scent, it would have a completely different scent. Boca's a little sleepy."
At the expo, dozens of global experts presented research, strategies of scent and sensory marketing, and showcased their distinct marketing solutions. One expert swore by the scent of cotton candy.
Outside on the street, regular folk who took a whiff of Miami's signature smell liked what they inhaled.
"The aroma is very fruity. Smells like palm trees, salty air. A tropical and beachy atmosphere," said Danny Sommer, 48.
Luis Castillo, of Miami, senses something is missing.
"It smells like oranges, very citrus-like, but still not Miami-like," said Castillo, 28. "The Cuban coffee is not in there."
Read more: https://www.miamiherald.com/2011/12/08/2537891/miami-gets-its-own-official-smell.html#ixzz1gKP7Rk2e