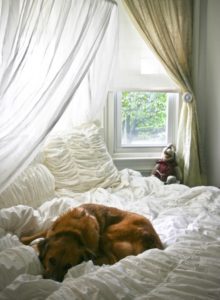 Have you heard about the Danish concept of hygge (pronounced hue-guh)? It is an unpretentious feeling of conscious appreciation, being in the moment and having a level of relaxed charm, comfort and coziness, and more and more Americans are seeking to incorporate it into their lives, often through home scenting.
Although you can feel hygge while out when friends, it is most often associated with being in your home either alone or relaxing with friends and family.  Hygge is a feeling more than a thing, but home scenting can boost your sense of hygge.
Home Scenting for Comfort
The pursuit of hygge has resulted in nearly 80% of Americans scenting their homes in 2017, according to new research from NPD Group. Of these, half said the scent made them feel relaxed, 35% said they felt more cozy and 30% said it uplifted their spirits. Cookies, vanilla and woodsy fragrances are the most popular home scents, and so they are potential hygge scents you could consider.
The Power of Scent
We know that scent is a powerful way to influence our moods and perceptions. Even though everyone has his or her own scent preferences, there are certain scents that can make most people feel cozy, relaxed and at home. For example, vanilla is a nearly universally liked scent. Scientists think this is because breast milk has some vanilla-like notes. This very early scent association is responsible for the feeling of comfort, security and satisfaction that most people have when they smell vanilla.
Other relaxing scents are amber, tobacco, leather, earthy and woodsy scents. These "warm" scents can make you want to cuddle up with a cup of tea and a good book, making them great hygge scents.
Booming Market
The research showed that sales of home scenting products are growing faster than any other segment of the fragrance market. Prestige home scent products grew to $80.4 million in 2017, a 59% increase. The three biggest products are candles (+56%), diffusers (+25%) and home gift sets (+165%).
Experience Hygge in Your Home
Air Esscentials has an entire line of hygge home scenting products. Unlike store-bought air fresheners and plug-ins, our products are the highest quality, with fragrance oils crafted by world-class perfumers. Our scents last longer and never smell artificial. See the line.