In less than three weeks, the beautiful Beaches resort in the Turks and Caicos Islands will host a unique event, Social Media on the Sand. On October 17-21, over 100 parenting bloggers will be attending this invitation-only conference where they will learn how to sharpen their social media skills.
Since Beaches is a family-friendly, all inclusive resort, kids are welcome too.  Attendees will enjoy all that the resort has to offer. Graced by 12 miles of the world's best beach, Grace Bay, Beaches Turks & Caicos offers the ultimate Luxury Included® Vacation with endless land and water sports, 5-Star Global
Gourmet™ dining at up to 20 restaurants, luxurious rooms and suites, and exciting family-friendly activities including Sesame Street® stage shows, the Caribbean's most thrilling waterpark, and even a nightclub.
Multi-sensory Extravaganza
In the gorgeous tropical location, the bloggers will see turquoise waters, taste delicious food and hear the laughter of their happy (and busy) children. To round out a wonderful multi-sensory experience, Air Esscentials will be providing environmental scent for three different areas of the event.
Tropical Scents for the Event
In the conference room, we will be diffusing the uplifting scent of lemon verbena. In the lunch break room, attendees will get in mood with the tropical fragrance of piña colada. The pop-up area will feature the clean marine notes of Fresh Blue.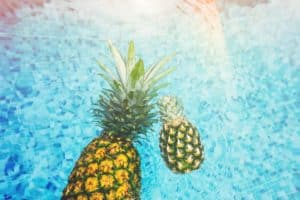 The executives at Beaches Resorts knew from the beginning that scent could help ensure that the event was completely enjoyable and unforgettable. To extend the good feelings after the event,  attendees will go home with a Fresh Blue room spray. Just a spritz will bring a little tropical paradise into their everyday life.
To find out how you can make your event extra special with scent, contact Air Esscentials.